PSP Sand Pump (Pump to Surface)

Description
The Pinnacle PSP Sand Pump provides a fast and efficient way to clean out sand or other fill from horizontal or vertical wells. This devise is an efficient mechanical pump capable of pumping large volumes of fill to surface in a single trip. The wear resistant seal system allows the PSP Sand Pump to be continuously used for long periods of time.
A full kelly type mandrel allows rotation throughout the PSP Sand Pump with a variety of stroke lengths available with only popular sizes listed below.
Operation
The PSP Sand Pump is made up on the tubing string with the required amount of tail joints between the upper and lower check valves. The pump assembly must be spaced out so that it will be below the fluid level and in the vertical section for efficient operation. For vertical wells, tail joints are not required. Once on bottom, the anchor is set and the pump is stroked up and down. As the fill is being pumped to surface, it may be necessary to lower the complete assembly to maintain pump efficiency. Always maintain the pump assembly in the vertical section. Continue this operation until either bottom is reached or the required amount of fill has been pumped to surface. (See diagram next page for common Pump to Surface tool configuration)
Features
Wear resistant seal system.
Kelly allows for rotation through pump.
Fill pumped to surface.
Heavy duty construction.
Operational simplicity.
Economical.
Horizontal applications.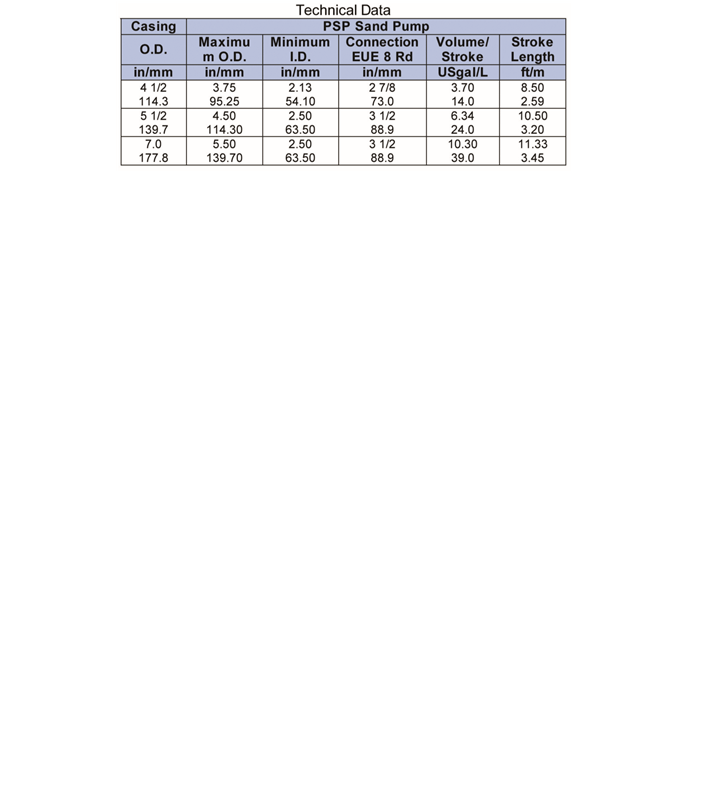 Common PSP Pump to Surface Configuration with Running Instructions

Description
Fill.
Bit, Spade, Chisel Point or Sawtooth.
Tail pipe if needed. (It is recommended to run tailpipe to keep tubing anchor above perforations or open hole.)
Pinnacle PC-1 Tubing Anchor or suitable anchoring device such as a packer with steel spacers in place of elements. (Quarter turn set anchoring device recommended for deviated wells)
Pup joint.
Pinnacle Type C Ball Check Valve.
Pup joint.
Pinnacle Model PSP Pump to Surface Sand Pump submerged in fluid.
Handling pup joint.
Pinnacle Type C Ball Check Valve.
+/- 2 tubing joints.
Pinnacle pressure activated Tubing Drain.
Tubing to surface.
Operation
Drift, tally and inspect all equipment before running into wellbore. Make up bottom hole assembly as needed and proceed to setting depth. Tag fill or position tailpipe at required depth. Calculate depth of tubing anchor. Tubing anchor must be set above perforations or open hole to prevent from being 'sanded in wellbore'. Ensure PSP Sand Pump is immersed in fluid. Pumping fluid down the annulus may help in low fluid level well clean outs. Reciprocate tubing until fill has been removed. Apply appropriate tubing pressure to shear tubing drain and equalize tubing to casing. Release tubing anchor and pull tool string from wellbore.